Wanlvgu leisure resort (hereinafter referred to as wanlvgu) is located on the Bank of Wanlv lake, Dongxing village, Xinhuilong Town, Dongyuan County, Heyuan City, Guangdong Province. It is the first original ecological natural fishing village on the Wanlv Lake Ring Road, with a total area of about 30000 mu. In the first phase, it is developed and constructed with original ecological sightseeing experience area and yewuping lake leisure resort. The tourist area has unparalleled scenery and intact original ecological natural landscape that have been dusty for half a century. The resort has a square enclosure hotel with unique Hakka characteristics, fisherman's villa and original Hakka rural food. The tourist area was officially opened on December 27, 2007. It is close to Guangdong Jiangxi Expressway and Guanghe expressway, with convenient transportation and complete reception facilities. It is an original ecological resort integrating Hakka culture, fisherman's water style, catering and entertainment, tourism vacation and business conference. It is known as the "paradise" in Northwest Guangdong. After more than ten years of ingenuity, wanlvgu has won the titles of "China's gold medal agritainment", "National Tourism and leisure demonstration unit", "Guangdong sports tourism demonstration base", "Guangdong University of nature" and "Heyuan civilization demonstration unit", gradually forming a holiday tourism area integrating Hakka culture, fisherman style, tourism and vacation, research and popular science and business conference, Favored by tourists.

Yewuping lakeside fisherman's resort is divided into two parts: the villa area and the "baiziwei" Hakka enclosure Hotel: the villa area has a top romantic post-modern Hakka style resort villa and a Hakka style restaurant. It is also surrounded by pastoral vegetable fields, rice fields / rape flowers / sunflowers, fishing grounds, beach volleyball, tennis courts, basketball courts, badminton courts, outdoor tent areas Boating, bamboo rafting, boating in the lake, dry pond fishing, natural swimming field, wild barbecue field, Rural karaoke, bonfire party, fireworks show, etc.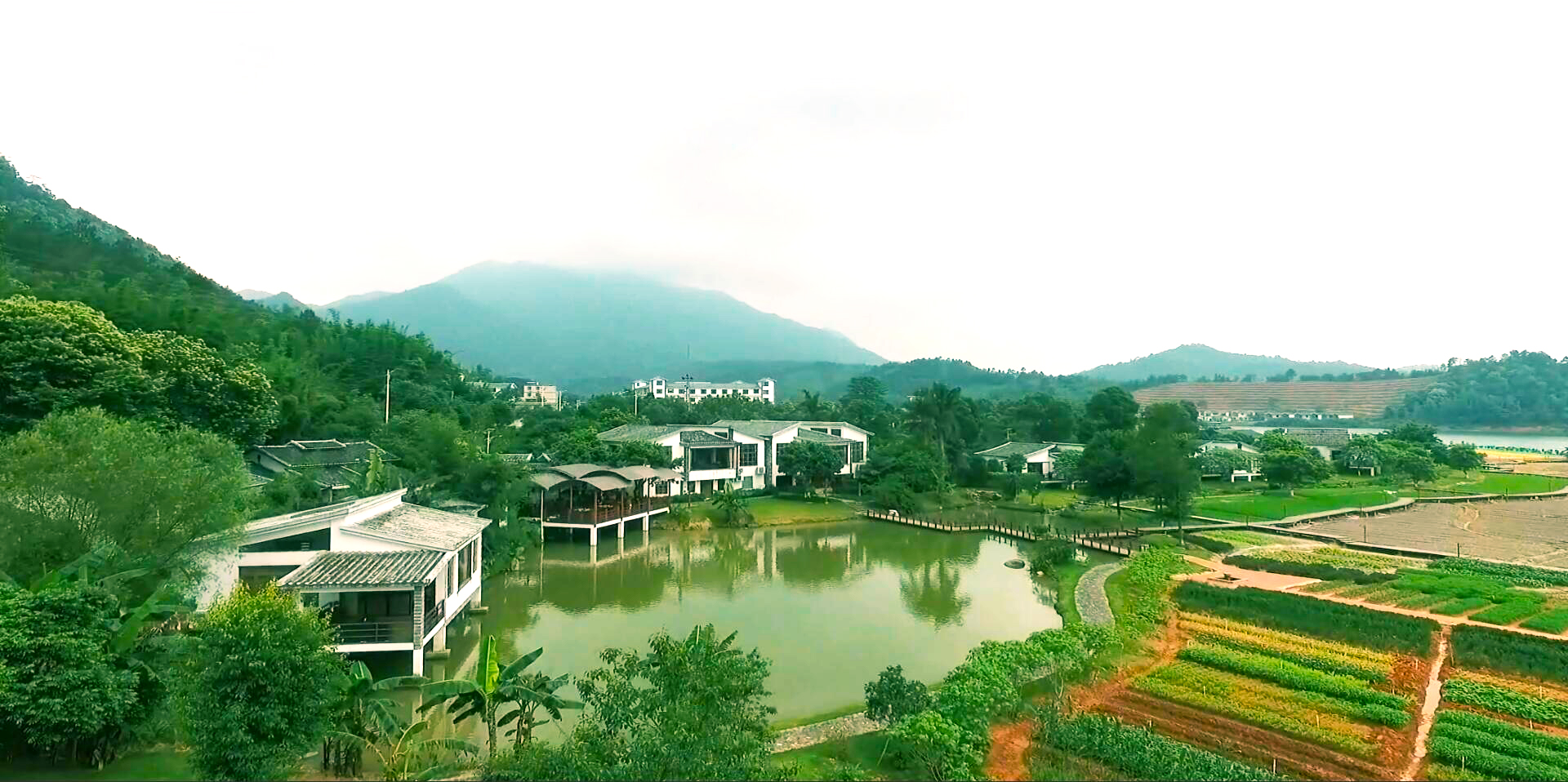 "Baiziwei" Hakka Wai hotel is the first Wai hotel with Hakka culture as the theme in Heyuan. The hotel is backed by Nanshan Mountain and faces Wanlv lake, which is perfectly combined with the natural pastoral scenery. There are more than 100 high-end guest rooms, many large and small meeting rooms, nostalgic classrooms for students' gatherings, chess and card entertainment rooms, etc. The whole park has beautiful environment, unique courtyard, long ancient banyan and green grass. Built according to the five-star standard, it is a real original ecological lakeside high-end resort hotel.
The hotel pays attention to cultural connotation, integrates Hakka elements, folk theme, natural style and perfect service facilities. The cultural atmosphere formed by the "baiziwei" Wai hotel is unique from other resort hotels. On the shore of the lake, at the foot of the mountain and on the Bank of the countryside, on the beautiful night of Ninghe, the green lake waves sing with you, the gentle Lake wind dances with me, the stars talk with nonsense, and the moon sleeps with me... It's so simple to enjoy life.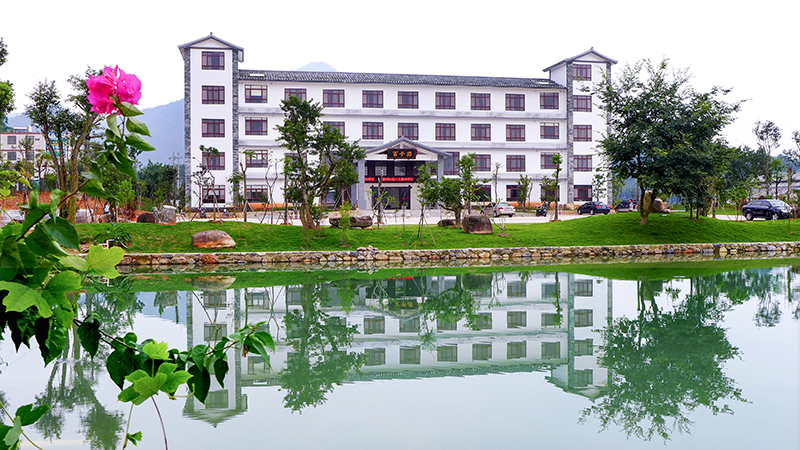 In the original ecological experience area of wanlvgu, the first phase of the ancient stone road, log plank road, strange trees and rocks, clear mountain stream water, and groups of mountain pit fish with many kinds will accompany you upstream. Unique original experience projects are set along the way, such as the magical man GUI spring, marriage concentric lock, inverted tree house, mechanism array, experience field, breaking through the nine customs, air corridor, grasping soil eggs, ice spring bath and other projects, so that you can personally experience the most beautiful original ecological Valley scenery.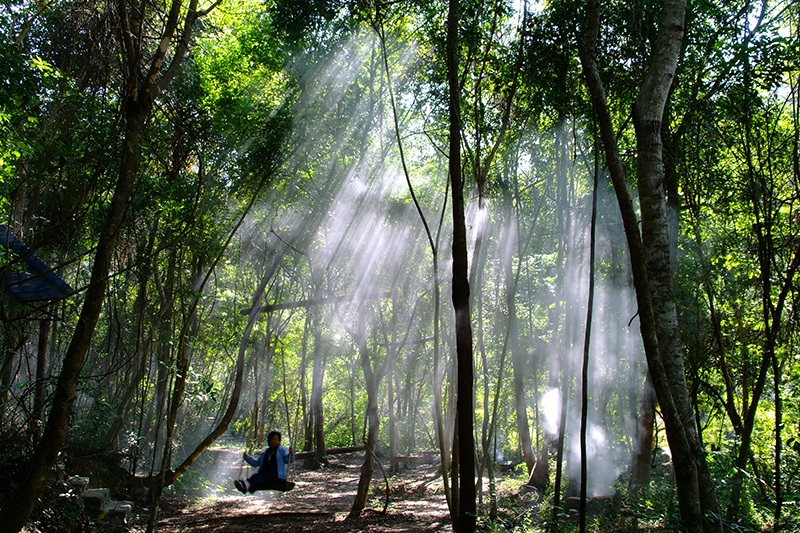 Wanlvgu air rafting is an important part of wanlvgu. Relying on the continuous ups and downs of Tianzishan mountains, abundant water resources and the avant-garde design concept of international rafting channel, wanlvgu creates a rafting that is like a high-speed railway flying boat and stimulates unparalleled rafting, which is known as the masterpiece of China's rafting in the century. The whole process of drifting is 3.5km, about 90 minutes. The most exciting "floating in the air" has a drop of 80m, with a drop length of more than 300m. The drifting coast integrates waterfalls, green ponds, strange stones, dense forests and rare plants. The dust laden Millennium scenery is amazing. There are strange peaks, cliff confrontation, many rapids, waves and flying boats. It is a thrilling and peak experience.
N reasons to drift in wanlvgu
Reason 1 Green Valley Air rafting is known as the masterpiece of the century of Chinese rafting, which is extremely exciting and peak experience.
Reason 2 the river source area has received the largest number of drifting scenic spots for four consecutive years; The avant-garde design concept of international drift channel, the most exciting "air drift" drop is 80m, the drop length is more than 300m, and the whole process is 3.5km, about 90 minutes.
Reason 3 Green Valley is located in the hinterland of Xinfengjiang National Forest Park and near Wanlv lake. It is rich in ecological resources and beautiful scenery.
Reason 4 drifting along the coast integrates waterfalls, green pools, strange stones, dense forests and rare plants. The dust laden Millennium scenery is amazing.
Reason 5 the drifting water quality reaches the national class I surface water direct drinking standard and is one of the best water sources of nongnongshan spring (Wanlv Lake).
Reason 6 you can't find the mist, and the negative ions exceed the standard. When you're here, you feel intoxicated with oxygen occasionally. Sometimes there is a light fog passing by, and a rainbow bridge is built, as if you were in a fairyland.